Loving Earth

A beautiful and loving life is a natural part of our existence and begins first and foremost with acceptance and love for self... for what we have within is what we then give out. Allow love first as your foundation and all life will experience that love.
When we recognize our innate love, wisdom and power, we become the conscious and privileged custodians of our wondrous earth. This orb is more than just our home; it is a vast, interactive and amazing classroom of incredible proportions.
As we move in cycle upon cycle of cosmic grace, throughout our particular galaxy and beyond, we awaken to the reality that we are intricately woven into the very fabric of life itself. No thing can exist without the other while experiencing this physical realm.
We are all very complex beings and this includes our beloved earth. The planet we live on is a sentient, vibrant and living consciousness. Don't believe this is so? Try living without the animal, plant and mineral kingdom's contributions. From the air we breathe, soil we walk upon and water we drink, everything we require to sustain life comes from this same life. The intelligence necessary to keep this system in balance is beyond any concept we can grasp.
At the same time, there is a simplicity to the intricacy that defies logic and gives meaning to the word elegance. Let us open our hearts and allow the dance of love to permeate all life. Nature calls to us once again and reminds us of the beauty held within all kingdoms - animal, plant and mineral. Each in its rightful place and together they combine into a symphony of exquisite melody.
Loving earth is as vital as loving ourselves.
Global consciousness begins with love along with our creative expressions to ease the suffering we have inflicted through ignorance and will over eons of time. We have the opportunity now to reverse this in a blink of an eye... just come from love.
As we develop this page, we intend to share universal wisdom and ideas that relate to our journey on this earth and our interaction with the animals, plants and minerals. Return back often as we add new information with this in mind.
Visit our Loving Earth Facebook group


---
Our True Nature
-John T. Goltz © 1996 Angels, Love and Light
USA

Flowers burst into radiant splendor
that we may surround ourselves with beauty
Birds sing the sweet songs of the seasons
that we may be reminded of the music of the spheres
And the Sun shines it's ever present gift of life
that we may know our true nature.


EARTHCHILD
Mindi Baldwin © 2014
South Africa
On the day of my birth
from the womb of the earth
I was registered part of humanity;
But I lived with the plants
till my uncles and aunts
Decided that this was insanity.
In pursuit of their goal
they pruned off my soul
and made me all neat and acceptable -
My clothing just right,
and my halo too tight
while my core remained quite undetectable.
The place where they pruned
left a large gaping wound
where the white cells cavorted with glee....
and with well-bred defiance
disguised as compliance
I whispered "I want to be me.....
And who's that, asked the teachers,
the aunts and the preachers,.
as the halo constricted my head.
So I stripped myself bare,
shook the tight from my hair....
"This is me, I'm an earthchild" I said.
Being scared of the earth
they decreed that my birth
was an error of judgment, and so
I returned to our trees,
to our sweet summer breeze,
and discovered my own embryo.
It's in the little things...
Deborah Latter © 2007
Canada

tiny sips of the dew from love's orchids
light captured and refracted by love's myriad rainbows of joy
the shifting grains of the sands of care, consumed and caressed by love's constant tides
sunlight's gold reflected in droplets; icicles of the heart, melting in love's warmth
new seedlings emerging, in love's lush soil -- love begets love
love's gossamer webs, fluttering in warm breezes; beautiful, elegant and strong
the peace of a glorious day, of a still heart, that beats with the simple assurance of love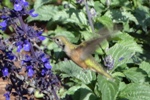 When the earth speaks!
Ammar Banni © 2008
Algeria

I was proud and pleased to see you on my back
From one mother and one father, you get off
You were primitive, I was teaching you the art of living.
Remember that you are not the only living beings
By love, I have selected you, promoted you and spoiled you
My sons and my daughters, I have called you
To come together, understand each other, love the other
I love you, I admire you
By pity for me, my animals, my children
I have supported and covered you in the early eras.
I feel that you go away from me,
You think you do not need me!
I have taught you love, peace and tolerance
You step away from me, but you will come back
I have never declared my rights,
You operate my fortunes, please, without selfishness
My heart, my land, my space is up to you
Have a providing preventive spirit,
Be sure that you do not make me ill
You think your progress will protect you!
I think that you will regret the consequences
Some rare diseases that appear every day,
Disasters that strike at all areas
Conflicts and wars which are activated without reason
You say that you are intelligent creatures!
So, what are you waiting for reconciling?
All divine and human laws suggest you the brotherhood
Your religions, cultures and civilizations offer peace
I want to see you united in mosaic,
In harmonious, respectful and colored painting
Back to the Garden
David Switzer © 2011
USA

Come with me
Back to the Garden
Where we have
No fears of
Who and what
We are
Back to the Garden
Where we see
The world with
Love in our
Eyes for each
Other and the
World we're in
Back to the Garden
Where our souls
Are free of guilt
And are filled
With the pure
Joy of being
Back to the Garden
Of our soul's Eden
The place where
All is love
And loving acceptance
Of who and
What we are.


Miss Mellie Rainbow
on Harmonics as the Gift of LOVE?
My Beloveds,
First there is a gentle touch, then an embrace,
next a re-membering, and another, and another,
and another re-membering
until we fully awaken into compassion,
humility, hope, joy, patience,
and understanding,
embraced by Divine Grace & Love.
This is the dance, the song,
and the gift of love that each being has to share.

Perhaps then, for each of us, the true miracle lies in our willingness to allow, appreciate, and honor the uniqueness, and freedom of each sentient being to sing the song of their heart. And these songs, so glorious, simple, and profound create a new Harmonic Rhythm of Divine Grace which gives us a pathway HOME.

Home is Heaven On Mother Earth.
Home allows us the gift of respecting the gardens of others, admiring ALL soul vibrations; and creating our own melodies which complement all others including
the pitter-patter of raindrops falling,
the whistling leaves as the wind flows through,
the bubbling brooks, birds singing
dolphins, whales and sea lions calling
dogs barking; cats, cheetahs, and cougars mewling; wolves howling
bears, camels, giraffes and horses chuffing, huffing and neighing,
frogs croaking, fish swishing.

Every sentient being has a sound that contributes to the Harmonics of Love into Infinity.

Silence too is a sound.
The beats of the Sun, the Moon and the Ocean
create the symphonic movements of Time.
The wind speaks through a gentle breeze that calms and soothes,
as well as through tornadoes, and hurricanes that join with rain
to announce Mother Earth's hurt and anger at our disregard for our Oneness.

Is it possible that we desire to journey into the pathway of the Uni-Verse?

When will we collectively awaken into attention
with a willingness to heal, to dance, to sing,
to receive, and give the gift of LOVE?

My Beloveds, the Conductor is waiting, the time to join the Uni-Versal Orchestra is NOW.
Joyfully written by Miss Mellie Rainbow
aka Melony McGant on 2 October 2007
Gifts of Nature
Antony Perera © 2009
Saudi Arabia

It's smooth so soft when the wind blows
Passing me saying howdy
It's cool, so fresh spraying down drizzles
Droplets landing in my body
It's so fine the mighty shines in the morning
Pervading the radiance of beauty
It is through a mountain incline
Lady of night I find glowing in a calming vanity
Hills and Forests, Lawns and Rivers
In varying colours, bestow beauty
Falling waters, glittering snow caps, mystic rainbows
Fruits are they to the eyes, so dainty
A Butterfly and a Rose in a romance
A matching gleeful union of nature
A flock of birds aloft them dance
Serenely feeling it you must nurture
The Flowery vine in a mighty tree she entwines
Never competes each other for sustenance
Creatures of the forest and others combined
All Nature's gifts, be alive and live in concurrence
How Can We as a Society
Listen to Nature's Call
Nicholas Tschense © 2006
at 9 years old

When we go outside we hear the rush of traffic, we hear the sirens of fire trucks, we hear the cry of a baby, yet do we hear the silent call of nature? If we listen really close we can expect to hear the subtle call of nature's great concern. You see as you are all aware, we have been toxic dumping in our rivers, streams and oceans. This water gets recycled and is the same water that rains on our vegetative crops. We can find these vegetables in our local grocery store. The next time you sit down to eat a meal with life-giving vegetables, just remember the impure water, air and soil they have grown in.
I don't tell you this to scare you. I tell you this to inform and motivate you.
I challenge each one of you to take personal responsibility and action for doing one thing to significantly help this precious and deprived planet. I say deprived as we starve of vitals of life which include clean air, clean water and clean soil.
We can turn this around.
We Are One
(Honoring Rachel England)
Matthias Dunlop © 2009
USA

I am the wind sweeping across the fields of clover
on a clear spring day,
and the rain clouds that suddenly appear.
I am the cool morning mists,
and the sweltering heat of a summer's day.
I am the walls that separate you,
and the sparkle of stars
in the open sky of the evening's calm.
I am the flame of the candle that lights your way,
and the darkness that surrounds you,
I am the magnificent oak tree
shading your picnic,
and the words in the book of poetry
that you are reading to your true love.
I am the love of The Creator,
and the anguish of a broken heart.
I am the big black lab that runs free on the beach,
and the nobility of her spirit
that brings her back home every time.
I am the fear and doubt of the coming day,
and the faith and joy that replaces it
in conscious awareness.
I am your reflection in the mirror,
and what you see when you look within.
I am your first thought upon waking,
and your last thought before sleep.
I am the bliss of a baby's belly laugh,
and the sorrow of the loss of a loved one.
I am the dread of change,
and the trust that it will bring something greater.
I am what is,
and what isn't.
I am you,
You are me.
Separation is an illusion
We are complete
We are Creator
We are One
The Beauty of Mother Nature
Liz Remeeus © 2006
Netherlands

Keep looking at the Beauty of Mother Nature....
It starts with a little Seed, then we grow and grow....
Then we become a beautiful Flower....
People are in a way like Flowers....
We grow and open Ourselves....

When People aren't inspired they will close....
And they aren't able to show their Inner Beauty....

When Flowers aren't nourished they will close too....
And then they can't show their Beauty....

We are all part of Mother Nature....
Every Living Being deserves a place in Mother Nature....

To learn from Each other, to help Each other, to carry Each other
and to stay Open....to make a Difference, to make this World a Better Place....

Because no matter what their Size, Colour or where they Grow....
You Remember to notice Beauty in Everyone you Meet...."


WANDERER'S SONG
Nina Goncharova © 2008
Russia

I've been wandering across the Universe,
In different disguises, always forward.
Weaving a veil for Mother Earth,
With my thoughts and words.
I arrived on Blue Planet Earth
On the edge of the Age of Fire.
I took my starry staff from the Universe,?
To help people be free was my desire.
So that they could spread their winged thoughts, And trust their "Divine Self".
To happiness soar upwards like birds
And, like the Sun, the Earth would shine.
Again I go by train or plane,
To touch people's hearts with love
I go to bed as an ordinary person
And wake suddenly, a Goddess.
Already, Gods walk on Earth,
In their palms sleeping babies Divine,
For people to remember their paths,
And let their starry eyes shine:
"We've all been wandering among the worlds,
All have worn different starry bodies"
Mother of the World's veil for young and old
Covers with blessings, everybody.
Comes the Love
From Bridging Heaven & Earth http://www.heaventoearth.com/
Allan Silberhartz © 2008 USA

From the Fires
Comes the Flames
Comes the Heat
Comes the Light.

From the Floods
Comes the Waters
Comes the Swelling
Comes the Healing.

From the Winds
Comes the Turbulence
Comes the Force
Comes the Soothing.

From the Rains
Comes the Thunder
Comes the Lightening
Comes the Cleansing.

From the Fires
From the Floods
From the Winds
From the Rains
Comes the Love.
LA TERRE?.ET LE SIECLE A VENIR
Guy Crequie © 2007 France

Elle porte nos pieds
Les pens?es de nos esprits
Tout acte sur cette plan?te terre
L'entretient ou la d?truit
Entre v?nus et mars
Plan?te du syst?me solaire
A se mouvoir circulairement
D'un mouvement quasi uniforme
Autour d'un axe passant
Par son centre de gravit?
La terre tourne autour du soleil
Sur une orbite elliptique
Quelle que puisse ?tre notre filiation
Philosophique et religieuse
Croyance d'un Dieu monoth?iste
Adepte des sciences de la nature
D'une loi mystique de l'univers
De la transmigration des ?mes
La terre existe pour toutes et tous
Depuis pr?s de cinq milliards d'ann?es
Son tr?sor d'harmonie
Et la pr?cision de sa vie
Sont un appel ? la raison
Des ?tres humains ? H?tes passagers ?
Dont l'existence renouvel?e
Appelle ? bien des d?cisions
Pour un ?veil d'humanit?
La terre est ronde et elle tourne
Elle ex?cute sa rotation
Ave une minutie infinie
Suivant un sens et un rythme d?finis
Nos yeux devraient s'impr?gner
De tous ces continents vari?s
De leurs ?tres diversifi?s
Les saisons se succ?dent
Manifestation d'existences
Dans leurs impermanences
Une le?on est ? retirer
Devant une telle r?alit?
Si nous sommes ?merveill?s
C'est qu'elle est l? pour nous aider
A r?aliser nos destin?es
Notre si?cle est ce d?fi
Vivre ou mourir
Cruelle trag?die
A l'homme d'en mesurer le prix
La destruction ou la survie
Est tributaire de lui
Pour prolonger les p?rip?ties
Du genre humain sur cette terre
S'il est une fin c'est l'?tre humain
Qui ne peut- ?tre simple moyen
A nous de faire vivre ce rep?re
Alors le troisi?me mill?naire
Sera celui d'un monde de fr?res
Dynamisant la plan?te terre.
GROUND?.AND THE CENTURY TO COME
Guy Crequie © 2007 France
It carries our feet
Thoughts of our spirits
Any act on this planet ground
Maintains or destroys it
Between Venus and Mars
Planet of the solar system
To be driven circularly
Of a quasi uniform movement
Around a busy axis
By its center of gravity
The ground turns around the sun
On an elliptic orbit
Whatever can be our affiliation
Philosophical and religious
Belief of God monotheist
Follower of sciences of nature
Of a mystical law of the universe
Transmigration of the hearts
The ground exists for all and all
Since meadows of five billion years
Its treasure of harmony
And precision of its life
Are a call to the reason
Human beings "momentary Hosts"
Of which the renewed existence
Call with many decisions
For an awakening of humanity
The ground is round and it turns
She carries out her rotation
Ave an infinite meticulousness
According to a definite direction and a rate/rhythm
Our eyes should be impregnated
From all these varied continents
Their diversified beings
The seasons follow one another
Demonstration of existences
In their impermanencies
A lesson is to be withdrawn
In front of such a reality
If we are filled with wonder
It is that it is there to help us
To carry out our destinies
Our century is this challenge
To live or die
Cruel tragedy
With the man to measure the price of them
Destruction or survival
Is tributary of him
To prolong the adventures
Mankind on this ground
If it is an end it is the human being
Who perhaps simple means
With us to make live this reference mark
Then the third millenium
Will be that of a world of brothers
Instigating the planet ground.

My Heart Flowers
From The Secret Language of the Heart
Catherine Seress © 2008
USA

From the earth of humility, a small
something pushes upwards.
It is relentless in its quest for life,
for love, for beauty. It pushes its
greenness towards the sun, towards
hope. It will not hide itself nor will it
be dissuaded. The bud of its rebirth
appears, and the petals stretch
themselves out. It is ready.
Do you have a loving idea or understanding about our living earth that you want to share?
Contact Us
Some Sites of Interest

The Story of Stuff with Annie Leonard
Check out this inspiring and straightforward video presentation from Annie Leonard where she clearly describes our current situation on the planet and how we can make positive and sustainable change. www.storyofstuff.com