Love Ambassadors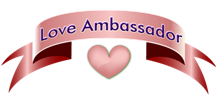 This exciting and inspirational TLF program, which began in 2004, is designed to acknowledge the many people around the world who quietly and joyfully embody unconditional love to the very best of their ability. These are the ones we meet who present a positive and caring approach in their thoughts, words, deeds and actions no matter what the circumstance or situation. You know them by the love and acceptance you feel while in their presence. They use love, wisdom and power in all they do and inspire us to be more.
Our TLF program Love Ambassador is designed to recognize individuals that embody the idea of love in every aspect of their life. All a person needs is the desire and intent to share the unconditional love within and be a living example of love in action. Anyone can be a natural leader through love by sharing compassion for all life.
A Love Ambassador shows others what self acceptance means. They are tolerant and embrace diversity. They forgive themselves and others. They visualize how love can transform the world. Ambassadors bring unconditional love to family, friends, communities, companies, schools, and civic organizations. They share their love for the animals, plants, oceans and rivers. They love the earth and all that inhabits it. They are an example of what unconditional love can do in all situations.
Nominate a Love Ambassador
We invite you to nominate yourself or someone you know that embodies the vision of love. Let others see and know it is possible to live in harmony, peace and love by acknowledging an ambassador of love. To nominate a Love Ambassador, please fill out our Online Nomination Form.
---
Our Designated Love Ambassadors
With our growing presence around the world, we wish to share the joy of meeting and being introduced to so many people that consciously hold love in their heart. In these times of great change and often difficult challenges, it is refreshing to know that so many individuals see life through the eyes of love. These unrecognized heroes are committed to generously loving all life on this planet. They naturally see that everything is interconnected and that all parts are necessary for the world to function. They often work tirelessly to bring about positive change while accepting the diversity inherent in life. You know them by their calling card - they are always inclusive and strive for unity, understanding, and compassion.
The individuals listed below are recognized and honored as Love Ambassadors by The Love Foundation through their personal commitment to applying unconditional love in their everyday lives.

Mercy Ekop - Ibadan, Nigeria
Bradford McIntyre - Vancouver BC, Canada
Jean Paul Wabotai - Barcelona, Spain
Suwilanji S. Nkonde - Lusaka, Zambia
Paul Sladkus - New York City, New York
Allan Silberhartz - Santa Barbara, California
Aba Gayle - Silverton, Oregon
Kim Thomas - North Essex, UK
Les Carney - Menifee, California
Greg E. Streator - Massillon, Ohio
Craig Russel - Vancouver BC, Canada
Dorene Patterson - Edgewater, Florida
Brenda Freo McCann - Winchester, Idaho
Carolyn Ann O'Riley - Dallas, Texas
Tatomir Ion-Marius - Sighetu-Marmatiei, Romania
Veeresh D. Yuson-Sanchez - Egmond aan Zee, NL
Mariangela Hofmaenner-Lavetti - Egmond aan Zee, NL
Hagit Ra'Anan - Kiryat Ono, Israel
Gururaj Karajagi - Bangalore, India
Peggy Kemp - Kapaa, Hawaii
Laurel Clark - Windyville, Missouri
Heather Ciavarella - Pefferlaw, Ontario Canada
Anthony S. Ikaba Ukpo - Okpoma Yala, Nigeria
Fred J. Mednick - Mercer Island, Washington
Deborah Moldow - Wassaic, New York
David Allen Stringer - Cornwall, UK
Jane Rees - London, UK
Larry Lewis - Stanford, Kentucky
Masami Saionji - Tokyo, Japan
Karimah Stauch - Bonn, Germany
Sarah Ince - Sudbury, UK
Ashu Derick Ashu - Johannesburg, South Africa
Immaculee Ilibagiza - New York City, New York
Salwa Zeidan - Metn, Lebanon
Vaclav Havel - Praha, Czech Republic
Robert Roskind - Blowing Rock, North Carolina
John Bunzl - London, UK
Kerry Bowden - Queensland, Australia
Stephane Michot - Acon, France
Lida Sherafatmand - Swieqi, Malta
Sylvia Klaere - Palma de Mallorca, Spain
Grace H. Ardona - Manila, Philippines
Masaru Emoto - Tokyo, Japan
Nicholas M. Tschense - Kanata, Ontario Canada
Martha Llanos - Lima, Peru
Sue Crossen - Torrance, California
Nina Goncharova - Novosibirsk, Russia
Claude Veziau - Riviere-a-Pierre, Quebec Canada
Talgat Akbashev - Novosibirsk, Russia
Philip Dimabo Brown - Port Harcourt, Nigeria
Ken Prather - Fort Wayne, Indiana
Mohammad Iqbal Behleem - Karachi, Sindh, Pakistan
Don Alejandro Cirilo Perez Oxlaj - Antigua, Guatemala
T. Ashok Chakravarthy - Hyderabad, India
Kathy J. Ward - Spokane, Washington
J. Michele Bodine - Maui, Hawaii
Ada Aharoni - Haifa, Israel
Dustin T. Shannon-Brady - Sherwood Park AB, Canada
Eliza Muylaert - Brussels, Belgium
Gabriela Ag?ero - Manitoba, Canada
Maria Cristina Azcona - Buenos Aires, Argentina
Geni Lawrence - Mirepoix sur Tarn, France
Ammar Banni - Guemar, Algeria
Mohamed Nazmy - Pyramids - Giza, Egypt
Robert March - Goodwood, South Australia
Ron Young - Cambridge, UK
Freddy Stathopoulos - Krioneri, Athens, Greece
Dimitris P. Kraniotis - Larissa, Greece
Andrea Smith - Sedona, Arizona
Annie B. Lawrence - Sedona, Arizona
Max E. Glenn - Yachats, Oregon
Kate Hollett - Toronto, Canada
Karen L. Garvey - Nesconset, New York
Anie Kalayjian - Cliffside Park, New Jersey
Nooria Sheikh - Lahore, Pakistan
Peter Bristow - Essex, England
Gloria Wendroff - Fairfield, Iowa
Guy Crequie - Venissieux, France
Judith Coates - Tacoma, Washington
Terry Grahl - Taylor, Michigan
Tami Lynn Carlson - Ingleside on the Bay, Texas
Taposi Roy - Dhaka, Bangladesh
Abang Tambe - Leicester, UK
Johannes Linstead - Toronto, Canada
Dana Tir - Buenos Aires, Argentina
Pete Seeger - Beacon, New York
Candice Vaught-Gomez - Hemet, California
Joseph Lukwago - Kampala, Uganda
Yuel Bhatti - Lahore, Pakistan
Pam Gerrand - Stratford, Ontario Canada
Edward Musau Mbwika - Nairobi, Kenya
George Paskalov - Los Angeles, California
Kudzo Agbeve - Mamfe, Ghana
Jean Colemonts - Curitiba, Brazil
Gift Genius Wokoma - Port Harcourt, Nigeria
Gerard C. Paul - Port-au-Prince, Haiti
Chandra Ramlagan - Barataria, Trinidad
Rose Jimenez - Westbury, New York
David Schneider - Sai Kung, Hong Kong
Kingsley Ikemefuna Ozobia - Lagos, Nigeria
Hilary Canto - United Kingdom
Terri Britt - Helen, Georgia
Michael Yates - Tamworth, Australia
Abraham Nissan - Hadera, Israel
Jerry Jampolsky - Sausalito, California
Vivian Turk - Damascus, Syria
Inderias Dominic Bhatti - Lahore, Pakistan
Patty Guilmette - Chicopee, Massachusetts
Bo and Sita Lozoff - Durham, North Carolina
Linda and Roy Hansen - Aurora, Colorado
Holly Stephey - Sonoma, California
David S. Fine - Southampton, Massachusetts
Harsha Kumara Navartne - Colombo, Sri Lanka
Ariaa Kathryn Jaeger - Colorado Springs, Colorado
Jessica Erlendson - Calgary, AB Canada
Ahtsham ul Haq - Punjab, Pakistan
Shannon Jean O'Connor - Middleton, Australia
Diana Marshall - Gulfport, Florid
Brian E. Schuttig - Tampa, Florida
Asif Sardar - Lahore, Pakistan
Benjamin Anison - Kumasi, Ghana
Emily Almeida - Goa, India
Jamie Tworkowski - Cocoa, Florida
Dr. Rupa - Mumbai, India
Frankie Tan Ming Kiong - Melaka, Malaysia
Noris Roberts - Caracas, Venezuela
T. T. Rangarajan - Chennai, India
Zsuzsanna Kovacs Vertes - Debrecen, Hungary
Gabrielle Simond - Geneva, Switzerland
Jimmy Wayne Barber - Nashville, Tennessee
Solange Megre Marques da Silva - V.N. Gaia, Portugal
Violet Crystal (Rita Smink) - Nijkerk, Netherlands
Bhuwan Thapaliya - Kathmandu, Nepal
Uzoma Hanssens Agwu - Brussels, Belgium
---

Al Diaz - Pomona, California
Malcolm C. Dragon - Port Talbot, Wales, UK
Helena Frykstrand - G?tene, Sweden
Ayomi Meneko - Warri, Nigeria
Amazu Damian Chuckwurah Vincent - Onitsha, Nigeria
Jannirose Joy Fenimore - Weed, California
Charlie Fenimore - Yellow Springs, Ohio
Ahmed Alsadi - Riyadh, Saudi Arabia
Sneha Singh - Chester Cheshire, England
Bankole Kolawole - Oshodi, Nigeria
Shirley Bryant Clark - Dublin, Ireland
Alexandre Guedes Barbosa - Belo Horizonte, Brazil
Juliet Ifeoma Obi-Anosike - Okota, Nigeria
Jill Steinberg - Benmore, South Africa
Bill Bauman - St. George, Utah
Patricia Araya - Coquimbo, Chile
Sabah Taibe - Damascus, Syria
Mary Shorun - Longview, Texas
Roberta Ward Smiley - Tilaran, Costa Rica
Norma Susana Roberts - Trelew, Argentina
Ernesto Kahan - Kfar Saba, Israel
Adelaide Taylor - Gauteng, South Africa
Tony Samara - Portugal
Teresa Bolen - Kyoto, Japan
Natasha Spira - Pozzuolo Martesana, Italy
Rusty Stephey - Sonoma, California
Cosmos Kango - Atebubu, Ghana
Dawnise Karen Duff - Oceanside, California
Michael Angelo Bosch - Jersey City, New Jersey
Patrick Iyke Anosike - Colorado Springs, Colorado
Prince Cookey - Akwa, Nigeria
Popper Gyorgy - Budapest, Hungary
Marita Ragozza - Buenos Aires, Argentina
Brian O'Leary - Loja, Ecuador
Nasim Mahmmud - Dhaka, Bangladesh
Paz Prem - London, UK
Darlette Harmon-Slack - Oklahoma City, Oklahoma
Ram Dass - Maui, Hawaii
Art Taro - New York City, New York
Dawn Gibbins - Congleton, Cheshire, UK
Murat Mertoglu - Istanbul, Turkey
Viraja Prema - Encinitas, California
Shayla Logan - Aurora, Colorado
Julie Hargreaves - Sheffield, TAS Australia
Don Hayes - Gold Beach, Oregon
Abraham Chege Ali - Marsabit, Kenya
Shawn Gallaway - Nashville, Tennessee
Halim Desku - Klina, Kosovo
Justin Hines - Toronto, Canada
Patricia Zimmerman - Tipp City, Ohio
Ana Quintela - Bayonne, New Jersey
Emeka Samuel Okoronkwo - Aba, Nigeria
Sybil Chinwe Onuegbu - Port Harcourt, Nigeria
Susan Pilime - Eastlee Hararae, Zimbabwe
Ejula Moses - Kampala, Uganda
Maji-da Abdi - Nouakchott, Mauritania
Candy Saad - Sao Paulo, Brazil
Becky Thatcher - Seattle, Washington
Jody Hagedorn - Eau Claire, Wisconsin
Anish Mohan - Adoor, India
Catherine Koch - Ladner BC, Canada
Ayo Ayoola-Amale - Accra, Ghana
Udeme Emmanuel Inyang - Uyo, Nigeria
David Dritsas - Los Angeles, California
Jeremy Lytle - Pompano Beach, Florida
Morgana West - Glastonbury, Somerset, UK
Susie Thompson - Kingston-Upon-Hull, UK
Hari Bansh Jha - Kathmandu, Nepal
Gautam Kumar Chaudhury - Cuttack, India
Sadaka Gandi - Dar es Salaam, Tanzania
Nand Kishore Tiwari - Bangalore, India
Macdonald Bin Eric - Yaounde, Cameroon
Yewodbar Tasew - Addis Ababa, Ethiopia
Johannes Sbsibe - Addis Ababa, Ethiopia
Meenakshi Kantasamy (Smiley Meenu) - Kajang, Malaysia
James Rudyanto - Bali, Indonesia
Rosa Dalmiglio - Rome, Italy
Lori Lindman - Spokane, Washington
Dharmendra Ratan Singh Sailoni - Mumbai, India
Adrian Pearson - Temple Terrace, Florida
Nick Pacey - Auckland, New Zealand
Mario Vaindirlis - Gauteng, South Africa
Afcato William Mwanga - Dar es Salaam, Tanzania
Keziah Twumasi - Akosombo, Ghana
Nalin Kurukulasooriya - Anuradhapura, Sri Lanka
Amber Lee - Ruskin, Florida
Tina Holden - Apopka, FL
Blessing I. Ehigiator - Ibadan, Nigeria
Sharon Hamilton-Getz - Bronxville, New York
Karl Rechnagel - Esbjerg, Denmark
Martha Kure - Herlev, Denmark
Hadaa Sendoo - Ulaanbaatar, Mongolia
Peter Lauridsen - Odense, Denmark
Larry James - Scottsdale, Arizona
Twizere Manzi Partrick - Kigali, Rwanda
Suliman Alzumami - Riyadh, Saudi Arabia
Jan Ankerstjeme - Nexo, Bornholm, Denmark
Margit Cruice - Noosa, Australia
Anuradha Koirala - Kathmandu, Nepal
Terri Woodd - Seal Rock, Oregon
Corina Martin - Constanta, Romania
Andrea Mennella - Umbria, Italy
Karolina Skott - Chicago, Illinois
Ishara A. Weeraratna - Milan, Italy
Shirley Golianis - Woodland Hills, California
Michael Saye Gilayeneh - Monrovia, Liberia
Nimmy Williams - Kerala, India
Muhammad Zakir Khan - Islamabad, Pakistan
Nanda Karunanayake - Colombo, Sri Lanka
Roauf Khalil Aqayi - Chios, Greece
Chantal Bassim - Jounieh, Lebanon
Gerry D. Bouey - Bellwood, Illinois
Sharon Winningham - Phoenix, Arizona
Brian Hilliard - La Jolla, California
Freida Hawkins - Upper Marlboro, Maryland
Teri Miller - Ft. Lauderdale, Florida
ShaRon Rea - Scottsdale, Arizona
Karen Palmer - Solvang, California
Livia Pillmann - Budapest, Hungary
Lylian Muttakyawa - Concord, California
Terry Prince - Henderson, Nevada
Hina Kehkashan Behleem - Karachi, Pakistan
N S Ravishankar - Bangalore, India
Roula Pollard - Athens, Greece
Lucretia Berzintu - Iasi, Romania
Eddy Ankrett - Solihull, England
Thais Regina Ferreira - Curitiba, Brazil
Markus Krug - Zurich, Switzerland
Murray Douglas - Calgary, AB Canada
Veronika Danyi-Weber - Tapolca, Hungary
Puleng Mohapi - Upington, South Africa
Ananda Balayogi Bhavanan - Puducherry, India
Ola Sheikh Al Eid - Gaza, Palestine
Caterina Barregar - Sooke, BC Canada
---